ТомТом
TomTom je holandski proizvođać automobilske navigacije. Proizvodi samostalne navigacione naprave i softver, koji se može upotrebiti u različitim napravama od mobilnog telefona do prenosnog kompjutera. Navigacija se vrši uz pomoć satelitkog poziciranja (engl. Global Positioning Sistem).
Upotreba na mobilnom telefonu
Za upotrebu TomTom navigacije u mobilnom telefonu potreban je odgovarajući telefon, koji ima svoj operativni sistem. TomTom se u tom slučaju koristi u kombinaciji sa satelitskim resiverom. Uglavnom su današnji resiveri povezani sa 20 ili 24 satelita. Pračenje vozila u prometu je vrlo kvalitetno i precizno. Sateliti takođe pokazuju brzinu vozila a softver nas snabdeva sa puno informacija na i pored puta (banke, benzinske stanice, škole, auto servisi,...).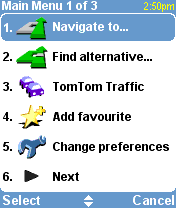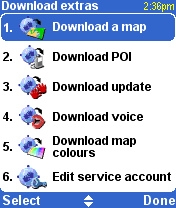 Program postoji i u Symbian i Win Mobile varijanti.
Više informacija na zvaničnom sajtu -
TomTom
Navigon - Innovation, experience and competence
Excellent user menus
Look and understand: Easy steps make the navigation application more user-friendly than ever before.
Other methods of entering the destination
Voice Input: Mobile Navigator 6 understands the spoken word. Save your destinations acoustically and start navigation by voice command. No more time-consuming keystrokes are necessary and you enjoy more safety and driving comfort. 'Take me home'-Function: It's great when the destination is 'Home'. It's even better when you are guided there at the simple touch of a button.
Real signpost display
Reproducing reality is still the best aid to orientation. MobileNavigator 6 helps you out in certain traffic situations by displaying real signposts, making orientation in ambiguous situations a lot easier.
Lane Assistant
One lane quickly becomes two, then three and four - and you always know exactly which lane you have to take. In complicated situations, Mobile Navigator 6 not only displays the road but also the lane, and guides you safely to your destination.
Improved graphics
All displays are captivating due to their excellent graphics. The high-contrast colours facilitate fatigue-free screen viewing and make orientation easier.
Clear 2D and 3D displays make viewing easier and improve navigation. By adjusting the colours to make viewing easy on the eyes, the night mode provides a pleasant journey at any time.
Traffic Info
Never lose time needlessly again. Traffic Info suggests alternative routes in the event of congestion.
Dynamic route overview
Keep track of the overall picture at all times. "How far is there still to go? How much longer will it take? Where is the next gas station?" Important interim destinations such as gas stations, restaurants or garage workshops can easily be incorporated into your route if required.
Program postoji u
symbian (v.6.3)
kao i
windows mobile (v.6.0)
varijanti. Program se može download-ovati sa sajta proizvođača. Naravno nije besplatan a cena , za obe platforme , je prava sitnica :
£69.99
Nav4All
Odlican besplatan program koji radi na symbianu ili windows mobile... Jedna od dobrih opcija mu je sto se sam azurira.Nav4All
is a
freeware
alternative of fully functional
GPS navigation system with maps.
Search and find millions of interesting places like restaurants, bars, gas stations, shops and much more. You can use the places you like as destination, save them as favorite, or share them with your friends by sms or email.
* Voice-instructions and clear arrows on your screen will guide you to your destination.* Automatic map updates
: All changes in the map information are updated automatically on our servers so you always have access to the most up-to-date information.
* Worldwide coverage
: (Navteq) Abu Dhabi, Ajman, Albania, Andorra, Australia, Austria, Bahrain, Belgium, Bosnia and Herzegovina, Brazil, Bulgaria, Canada, China, Croatia, Czech Republic, Denmark, Dubai, Estonia, Fajairah, Finland, France, Germany, Gibraltar, Great Britain, Greece, Guernsey, Hong Kong, Hungary, India, Ireland, Isle of Man, Italy, Jersey, Kuwait, Latvia, Liechtenstein, Lithuania, Luxembourg, Macao, Macedonia, Malaysia, Mexico, Monaco, Northern Ireland, Norway, Oman, Poland, Portugal, Puerto Rico, Qatar, Ras Al Khaimah, Romania, Russia, San Marino, Saudi Arabia, Scotland, Serbia and Montenegro, Sharjah, Singapore, Slovakia, Slovenia, South Africa, Spain, Sweden, Switzerland, Taiwan, The Netherlands, USA, Umm Al Quwain, Vatican City, Virgin Islands (USA), and Wales.
* MyWorld: with MyWorld you can share your favorite places by sending them to one of your MyWorld maps. You can share these maps with your friends or put them on your MySpace or other website you like.
* Works on over 1000 different handsets in 56 languages: Nav4All is available in your own language on almost any mobile phone, like Blackberry, Nokia, SonyEricsson, Motorola, HTC, QTEK, HP, and many more.
ROUTE 66 Mobile
ROUTE 66 Mobile 7 features:
* providing users with a new navigation information bar which shows all vital travel information at a glance, including estimated time of arrival (ETA), remaining travel time, remaining travel distance, GPS signal strength and street name indication
* providing users with new pop-up alerts of upcoming turns
* using a high sensitive wireless GPS receiver which quickly re-establishes satellite connection following signal disruption when driving through tunnels, allowing users to concentrate fully on driving
* using ROUTE 66's new Extrapolated GPS (E-GPS) technology for GPS signal extrapolation in tunnels and urban canyons
* granting un-limited use of up-to-date map data to get users to their destinations as quickly and efficiently as possible without any subscription costs
* allowing users to set acoustic and visual alerts to avoid breaking speed limits in unknown areas
* enabling users to use keypad shortcuts for immediate access to features like 2D or 3D map display, night driving colors, latest voice instruction and zooming in/out on the map
* allowing users to select a wide range of languages for the user interface and voice driving instructions including English, Czech, Danish, Dutch, German, Greek, Finnish, French, Italian, Norwegian, Portuguese, Romanian, Spanish and Swedish
* automatically re-calculating the route if a turn is missed and providing flexible travel options by selection of 1) the type of route (shortest/fastest), 2) the means of transport (car/truck/pedestrian) and 3) a virtually unlimited number of waypoints
* allowing users to use SMS style text inputs to the FuzzySearch address search engine, points of interest panel, contacts' addresses, favorites and history
* allowing users to make and receive telephone calls, identify points-of-interest details, including telephone numbers, to enable reservation bookings, this all at the touch of a button directly from the map
* displaying GPS data such as time, date, geographic co-ordinates, driving direction, altitude and number of visible satellites.
Radi na symbianu i windows mobile uredjajima...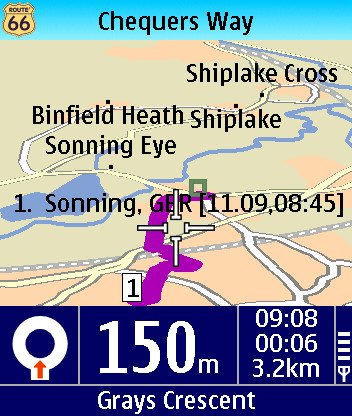 iGO My way
Pretvorite Vaš Pocket PC u navigacijski sustav!
iGO My way GPS navigacijski software pomažem Vam da stignete do odredišta brže i lakše nego ikada prije. Koristite li ga u gustom gradskom prometu ili na cestama kroz prirodu, iGO My way će Vam uvijek pokazati pravi put.
Potrebna je samo minuta i iGO My way je spreman za vožnju!
Sve što trebate je Pocket PC sa Microsoft Windows Mobile operativnim sustavom i iGO My way Europe 2006 | SD memorijsku karticu. Kao rezultat revolucionarnih tehničkih otkrića detaljnja karta Europe sadržana je na memorijskoj kartici od 1 Gb. Nema potrebe za instalacijom softwera, downloadanjem karata ili registracijom putem interneta, odmah možete početi pretraživati adrese i planirati rute. Ako posjedujete GPS prijamnik možete koristiti sve mogućnosti softwarea kao što je navigacijska glasovna uputa pri svakom skretanju i druge. Zahvaljujući jednostavnom korisničkom sučelju i digitalnoj karti visoke točnosti iGO dodaje pravu zabavu u navigacijskom iskustvu.
Vise informacija na zvanicnom sajtu:
i-go
Wild-Mobile SmartCom Navigator
SmartCom Navigator is an easy to use software with a user friendly interface supporting all necessary functions that will turn your smartphone into a powerful navigation system.
You can use SmartCom Navigator without GPS-receiver for example as a map browsing tool during excursions at an unknown places.
All program functions were divided into several categories that are available in one or two clicks in main menu.
Main program features:
- 100% compatibility with maps and data files of OziExplorer and SmartComGPS (can read .plt, .wpt, .map, .names);
- Comfortable map browsing;
- Unlimited map size;
- Fast zoom from 20% to 1000%;
- Trip calculator in navigation mode;
- Fullscreen;
- Supports tracks and waypoints;
- Track and waypoint editors;
- Automatic voice and visual instructions in navigation mode;
- Send SMS with position from map;
- Receiving and showing SMS'es on the map;
- Satellites screen;
- Fast zoom out till 0,5%;
- Playing sound on GPS events;
- Track search (search track to a given position using existing tracks);
- Downloading maps from the internet;
- Supports .ogf2 maps
SmartCom Navigator supports smartphones based on Symbian Series 60, Series 60-rd edition and UIQ.
Vise informacija na zvanicnom sajtu:
wild-mobile
Nokia maps( Nokia mape ) - Smart2Go
Nokia mape su besplatan alat za određene mobilne uređaje koji vam omogućava skidanje mapa i tako vam olakšava pronalaženje zanimljivih mesta. Jednostavno možete saznati kako doći do željenog mesta.
Nokia mape predstavljaju više od obične usluge traženja lokacija. Nađene lokacije možete deliti s prijateljima ili planirati rute između željenih lokacija. Dodatna usluga je i pouzdan navigacioni sistem te gradski vodič s mnogo korisnih informacija.
Ova aplikacija dolazi preinstalirana na par uređaja , sa internim GPS prijemnikom , ali se može koristiti i na ostalim kompatibilnim modelima sa odgovarajućim eksternim bluetooth GPS risiverom.
Kompatibilni uređaji
: Nokia N95, Nokia N73, Nokia N76, Nokia E61, Nokia E61i, Nokia E65, Nokia N93i, Nokia N72, Nokia 6120 classic, Nokia 6110 Navigator, Nokia N70, Nokia N81, Nokia N81 8GB, Nokia N95 8GB, Nokia N80, Nokia E60, Nokia E70, Nokia E50, Nokia 6290, Nokia N77, Nokia E51, Nokia N82, Nokia 5700 XpressMusic, Nokia 6121 classic, Nokia E90 Communicator,Nokia 6290.

Sam postupak download-a i instalacije se odvija u 4 koraka:
1. Download the correct version of Nokia Maps to your PC and install it with PC suite or transfer the installer to your phone.
2. Launch the Nokia Maps application on your phone if installed with PC suite or locate the installer and run it. Follow the instructions. Launch application after installation finishes.
3. Download and install Nokia Map Loader for your Windows ® PC. Follow the on-screen instructions during installation
4. Download map files with Nokia Map Loader and transfer them to your phone. Start exploring your world!
Detaljnije na
Nokia sajtu.
Wayfinder Navigator™ 7
The most complete GPS navigation system for your mobile phone
Wayfinder Navigator™ 7 software combined with a Bluetooth GPS receiver* turns your mobile phone into the ultimate travel companion.
So much more than just door to door...
Your main concern just might be getting from A to B in the shortest amount of time. No problem. But Wayfinder Navigator™ 7 can also help you find and select locations and discover millions of points-of-interest along the way. At the press of a button you can locate ATM's, banks, police stations, doctors, pharmacies, hotels, restaurants, theatres, bars, shops, night life, petrol stations... and much more by proximity, on the map or just by browsing the integrated directories.
This is what you get
* Easy-to-install online navigation system
* Power search functionality to millions of addresses
* Automatically updated 2D/3D maps and real-time traffic information
* Rotating maps display and clear voice guidance in your language
* Night modes
* Guide to more than 20 million points-of-interest (POI) covering more than 1000 cities.
* Weather, currency rates and public transportation schedules.
* Lifetime licence of Wayfinder Navigator™ 7 which is transferable to another compatible mobile phone at any time.
* Access to MyWayfinder.com, a web-based tool for quick and user friendly pre-planning of journeys.
This is what you need
* A Wayfinder Navigator™ 7 compatible mobile phone.
* Data subscription (GPRS, EDGE or 3G/UMTS) from your mobile operator/wireless carrier.
* Wayfinder Bluetooth® GPS receiver (to get your position, and enable turn-by-turn visual and voice guidance).
Not required for phones with built-in GPS.
Radi na Symbian, Windows Mobile, kao i J2ME aparatima.
Kompletna lista kompatibilnih telefona je
ovde
.
Vise informacija na zvanicnom sajtu:
wayfinder
TrekBuddy
Trekbuddy is a J2ME application to be used with a GPS receiver. It is designed to work with every Java-enabled device.
It features capabilities such as
* GPS tracking and simple navigation
* bitmap maps (without zoom, you can store bitmap maps with different resolution instead)
* arrange maps as atlas for increasing and decreasing resolution
* trackloging in NMEA or GPX format
* compas screen (HPS)
* cockpit screen (CMS)
* location sharing via SMS with other trekbuddies
and more.
It supports most commonly used map projections and grids, such as
* Latitude/Longitude
* Mercator
* Transverse Mercator
* Universal Transverse Mercator
* Swedish Grid
* British National Grid
* Irish Grid
* Swiss Grid
* Lambert France I-IV
as well as custom datums.
As a position source
* bluetooth or serial port GPS
* internal (integrated) GPS
* NMEA file
* O2 Germany network
may be used.
Supported devices:
# MIDP and Symbian phones
# Windows Mobile devices
# Blackberry devices
# Palm devices(Garnet OS)
Ovo je open-source freeware aplikacija!
:D Mozete je preuzeti
ovde
.