Sarah Kate Silverman
(born December 1, 1970) is an American stand-up comedian, writer, producer, and actress. Her satirical comedy addresses social taboos and controversial topics, such as racism, sexism and religion, having her comic character endorse them in an ironic fashion.
Silverman was a writer and occasional performer for 18 weeks on Saturday Night Live and starred in and produced The Sarah Silverman Program, which ran from 2007 to 2010 on Comedy Central, for which she was nominated for a Primetime Emmy Award. She released an autobiography The Bedwetter in 2010. She has also appeared in other television programs, such as Mr Show and V.I.P., and starred in films, including Who's the Caboose? (1997), School of Rock (2003), Wreck-It Ralph (2012) and A Million Ways to Die in the West (2014)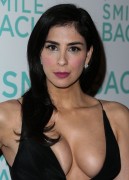 Early life
Silverman was born in Bedford, New Hampshire, to Beth Ann (née Halpin; 1941-2015), and Donald Silverman. She was raised in Manchester, New Hampshire. Beth had been George McGovern's personal campaign photographer and would found the theater company New Thalian Players, while Donald had training as a social worker and also ran the clothing store Crazy Sophie's Outlet. Silverman's parents divorced and remarried. Silverman is the youngest of five siblings. Her sisters are Rabbi Susan Silverman, screenwriter Jodyne Silverman, and actress Laura Silverman; her brother Jeffrey Michael died when he was 3 months old.[15] Born into a Jewish family, she considers herself secular and non-religious. She was in attendance when women lit menorahs at the Western Wall for the first time in December 2014.
The first time Silverman performed stand-up comedy was in Boston at age 17, she described her performance as "awful". After graduating from The Derryfield School in Manchester, she attended but did not graduate from New York University and performed standup comedy in Greenwich Village.